I have been faced with this challenge many times in my career, and it seems it often boils down to the same. It might surprise you that generally the problem is due to a lack of insight in independent hotels on how the travel industry really works. There is also a shortage of understanding in the business in general and a certain level of nostalgia making decisions based on gut and feel instead of looking at the science behind the basics of Hospitality and crafting processes that are talking to hotel's GOP and NOP. As a result, hotel assets become distressed and are in direct need to be turned around.
Many properties are built without sufficient planning and ran by under qualified management. Yes, unfortunately many hotel businesses are challenged with not having the right staff and management that truly comprehend their job. They lack the capability of connecting the dots between the work they are doing and the financial results of the hotel.
A perfect example would be a conversation I had a little while ago with a very experienced revenue manager at a 5 star destination resort of a renowned international hotel chain. At the hotel he was assigned to take on, offers were being extended to distributors with discounts, rebates and override commissions that were in reality not contributing to the bottom line. Actually they were costing money. Yes they were selling rooms, but the hotel essentially had to chip in money to make the guest stay feasible.
How come a sales manager is capable of negotiating deals that end up costing money? To me it is amazing the shortage of understanding many people in the hotel have on what their real contribution and impact is on the bottom line of their hotel.
I have just used an example of a sales manager, but unfortunately they are not the only ones in our industry unfortunately. Many General Managers and Front Office Managers as well lack a deep enough insight in how to really manage a hotel operation and business.
I am sure I am making a lot of friends with this generalization, but sadly I am speaking from real experiences. Having said that it surprises me that in the hotel industry however operations and strategies are still very much intertwined. In which other industry do people on the 'factory floor' or production line (without any further training) make such important decisions?
Too often the business side of the industry is being approached with a service mentality. We want to keep everyone happy. This simply is not possible if we want to optimize revenues and profits for our hotel. We have to analyze which parts of the business truly add value to the bottom line, and which don't. Sometime a corporate account, distributor or group request, simply does not bring us additional profit, but will cost the hotel money. It seems that many senior managers in the hotel industry still have problems with saying NO to unprofitable business. They confuse financial strategies with guest service.
Ok enough with the drama, and let's get to the solution. What does a hotel turn-around strategy look like? How can I make a hotel's revenues go up in just a few months time?
Here our check-list for Hotel Turn Around Management:
Speed to Market
A distressed hotel probably got to its current situation through a slow process of decline. Over time business and profitability eroded. To get out of the slump you need to get momentum back on your side.
Takeover management is done with speed to reenergize the organization and the employees. You need to get the team huddled up. With motivation levels up again you will be able to get a long way.
So look for some quick wins to show them your approach has a positive impact, and you will get people on your side for the long battle ahead of you.
Wake and Shake Them Up
Yes of course the downturn happened with the team you are now managing. But is it their fault? No, of course not; they were probably not shown correctly, trained or properly managed.
Motivate them by leading by example. Get your hands dirty and fix the problems. Show that you can do the job, and love doing it. Treat them with respect, and soon you will see the spark lighting back up in their eyes.
And don't forget you can learn from them as well. They know the ins and outs of their hotel and marketplace. Show you care about what they know, and soon they will know you care. Little things matter, call them by their name!
From the beginning you have to set the expectations clearly. Let the sales, marketing and reservations team now what will be coming and what you expect from them by helping them understand the difference between Order Takers vs. Personalized Sales. How Effective is Your Hotel Selling over the Phone?
They probably have been neglected and left to their own resolve. If explained in a constructive manner they will welcome the new support and guidance you can provide them.
And remember a successful hotel is all about having satisfied and happy guests, and to have happy guest, you need happy staff who are respected and recognised for their effort. It's a peoples industry. People are the foundation of success. So it might not be a bad idea to reenergize and train the staff in guest service and standards that you expect of them.
Simplify It All
Every time I have gone into manage a distressed hotel, I generally find that rate structures, marketing and distribution strategies are over complex. And as a result they become time consuming to manage. At one point you don't even know anymore where and at what price you are selling your hotel rooms.
I have seen many hotels having absolutely having no control over their rates and inventory, just because they jumped on every promotion distributors proposed. Just imagine, an early bird discount of 10%, combined with a stay 4 pay 3 nights offer, and free breakfast for weekdays from 2 nights, and a 5% override commission. Do the math and we are talking about a 43% discount. Now subtract 15% commission from this and we only have 49% left of the price we set out to sell.
Yes ladies and gentlemen hoteliers, please keep it simple. It makes it easier to manage, control and saves a hell of a lot of time.
Focus on your needs and build your strategy around that. Do not simply react to every request for an offer that gets send to you. Before you know it you will lose track.
Moreover, consumers need to understand your pricing. They should not need a PhD in hotel reservations and pricing strategies to book your hotel. Simplicity helps increase conversion …
Presence, Reach & Exposure
You need to be visible to your potential guests. They search multiple websites to find a hotel where they would like to stay. So you have to make sure you can be found. And just being on websites is not merely enough. You need to make sure your online profile is much more attractive than your competition with many images, video's, great customer feedback and good review scores.
Put your profile next to your competitors and objectively judge if your look better or not. Compare yourself to some of the best hotels out there in the online game, and try to match what they are doing to promote their hotel.
Cash is King
A distressed hotel basically needs money. So it's important to get the cash flow jumpstarted quickly. Non-essential cost should be scrapped immediately of course to assist in a quick transition towards a healthy cash surplus. But cost control is not the only method. If the hotel is faulting occupancy, you might think about launching flash sales campaigns to get more people coming through the doors.
It is key the cash-flow becomes positive within a short time frame when taking over a distressed hotel. Otherwise the turnaround might prove to be difficult.
Putting Theory into Practice
I can hear you thinking. Fantastic theories, but do they even know how to do this for real. Yep, I do . Did it on a daily basis. Let me share with you a success story of a recent hotel turnaround strategy we implemented.
It is in the embattled market of Seville, Spain, which is heavily suffering from a deep crisis. The country has an unemployment rate of 27.5% and the economy is in shambles, putting a lot of pressure on companies.
Corporate travel budgets have been sliced to all time lows. MICE events are also down tremendously from pre-crisis levels. And national tourism is down the toilet.
Moreover the hotel is not located in the city centre, but rather on the fringes, nor is it close to the trade-fair. And accommodation supply has also by far outgrown normal demand levels due to over-construction.
A nice challenge we got ourselves into wouldn't you say? Where to start?
Here a summary of the actions we took:
Removed the underperforming chain flag. Resulting in immediate cost savings.
Non essential operational cost eliminated.
Repositioned the hotel as a quality 4 star hotel with a clear independent character.
Launched a new website to emphasize the Unique Selling Points of the hotel.
Improved online and offline public profiles of the hotel (better images and descriptions).
Implemented dynamic pricing strategy to allow for proper yielding based on daily demand fluctuations.
Developed a surrounding pricing strategy and price discrimination tactics (i.e. Non-refundable offer) to reach more price demand levels.
Re-segmented hotel room typology with clear product differentiation in order to improve conversion and allow for up-selling.
Expanded online presence, reach and exposure through expansion of distribution partnerships.
Increased brand visibility through strategic SEO and SEM.
Protecting against 3rd party cannibalization by online trademark protection and preventive bidding on own hotel name.
Market penetration through targeted flash campaigns during distressed periods.
Targeting niche consumer travel markets through packages with dedicated website landing pages.
Improvement of online reputation ranking by actively requesting guest feedback on review platforms like TripAdvisor and Google+
And did it work? Like a miracle!
Having started to restructure the hotel's strategies in January, we already saw the first impact in February reaching an MPI of 1.2 and RGI of 1.06 when measuring our results vs. a competitive set average of 20 hotels.
Primarily focused on driving occupancy before pushing rate, growth continued steadily, and by May we reach both an MPI and RGI 1.16. Not bad, outperforming the average results of our competition by 16%.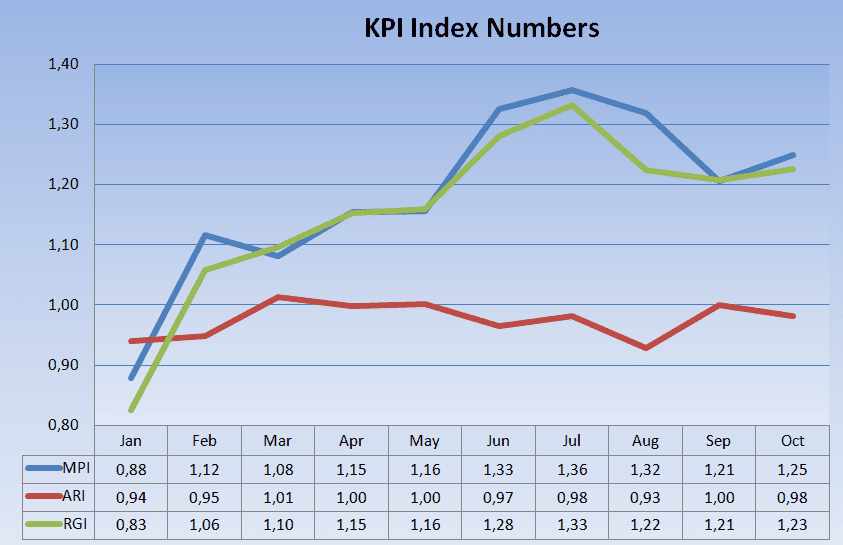 * MPI = Market Penetration Index | ARI = Average Rate Index | RGI = Revenue Generation Index
I pro-actively countered the summer slump by launching aggressive flash sales campaign, resulting in occupancies the hotel had not seen in the last 7 years during this extreme low demand period. RGI in July even reach 1.33 as you can see in the graph above.
Benchmarking ourselves against a competitive set of 20 hotels, we were ranking on position number 14 in January. By September and October we have moved up to slot number 3 in this market sub-set of hotels. Take a look at our progress in the graph below.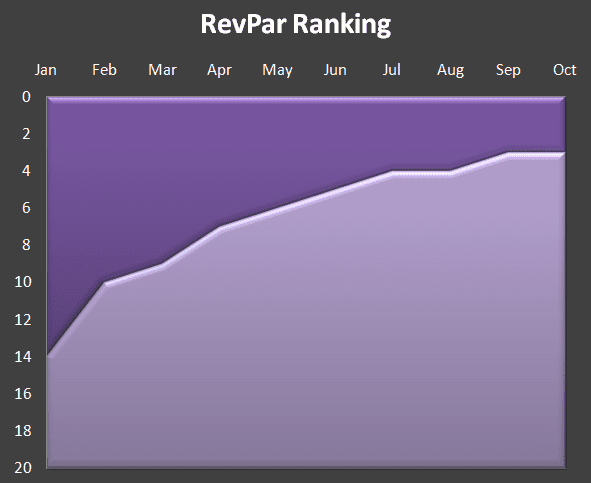 We closed November with 12% year over year room revenue growth. And overall RevPar is forecasted to grow 6% for 2022. Quite an accomplishment, if I may say so myself, in such a cut-throat and suffering market with Covid restrictions.
As you can see a well-structured turnaround strategy will deliver undeniable results. It's purely a matter of getting organized followed by timely implementation and consistent execution.
Is your hotel underperforming or distressed and results need to be turned around? Or you need to groom your financials for the sales of your property? The hotel consulting strategy specialists of BFR Global are experts in hotel Turnaround Management.